Like a more gentle approach to relieve body tension?
Position Release Therapy is a comfortable way to release muscle tension through gentle maneuvers and compression techniques that remind the body of its natural ability to heal itself.
A pain free therapy, Position Release encourages nerves to communicate differently with tight muscles, allowing for old patterns of pain to be replaced with natural patterns of movement that are free and easy.
Unlike conventional massage, Position Release allows for your own body to make changes for itself. The result is seemingly effortless pain and tension relief.
Self-care techniques are often suggested for you to release your specific pattern causing you pain. These self-care techniques further aid in relieving pain, restoring function, and re-balancing your body.
Position Release Therapy is beneficial for:
recovering from injuries, surgery and stress
people seeking natural re-alignment, relaxation and a deep sense of well-being
individuals who want to feel empowered to participate in their own recovery, and motivated to continue it
ones in a fragile state of mobility or spasm, who appreciate a lighter touch
people coping with Fibromyalgia or Chronic Fatigue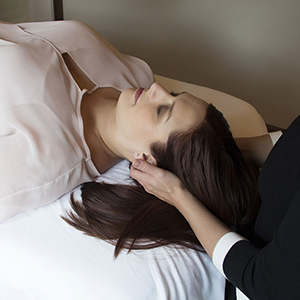 "I was diagnosed with Fibromyalgia twelve years ago, and at that time I was desperate, and had no clue what was going to happen. I am a mother of seven, and at that time in my life, I had maybe five hours a day where I could be awake and function. But now I don't have any of those issues. Position Release has been my Godsend because other deeper therapies would send me into a flare-up. I love how Angela is able to gently release all of my pain, and now it is staying that way for me for weeks at a time!" ~Kelly Neis, Foley, MN

"I was used to regular pressure massage for my neck problems, and I couldn't believe how, in just one session of Position Release, I could effortlessly turn my head in a direction that had been tightly restricted for days! I had no pain during the session at all, and none after either! Amazing! I also appreciated the exercises that really helped me between my sessions." ~Marnie Pogreba, Staples, MN
Position Release Options:
30 Minute Session: $50
60 Minute Session: $80*
90 Minute Session: $120*
Add a 20 Minute Hydro Massage Session for $10
Add a Paraffin Dip Treatment for $10
*Within this time you may choose a combination of therapies.
Prices do not include sales tax. No sales tax is collected if you have a referral from a Doctor.
Your body remembers how to feel good, let Position Release gently remind it!
Call (320) 252-2442 for your appointment.