Need to unwind before your massage? Or…want more time to relax after your massage?
Amplify the results of other therapy by using the Hydro-Massage Table to relax further! Our state of the art Hydro-Massage Table is equipped with adjustable jacuzzi jets to vary the pressure.
Three rotating powerful jets warm and relax your whole back, while a sleep inducing eye pillow and soft heavy blanket calm your mind and body. It's like relaxing in a warm jet powered whirlpool, without getting wet!
Hydro-Massage is beneficial for:
decompressing the mind and body after a busy stressful day
warming very tight, or spastic muscles in preparation for massage therapy
quieting a preoccupied mind
allowing body work to settle in
increasing circulation for the spine
"I love using the Hydro-Massage Table before my Acupressure Chinese Massage with Jeremy. The warm gentle massage it gives, begins to unwind my tension, and lets my mind decompress after my busy day of work. At the end of my session, I feel melted to a puddle!" ~Rose Kunkel, Sartell, MN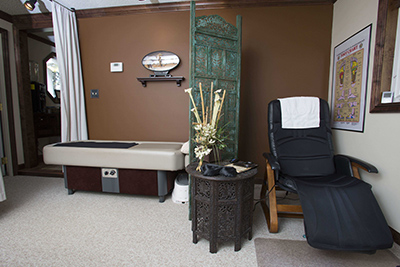 Hydro-Massage Options:
20 Minute Session Therapy: $10
Add a Paraffin Dip Treatment $10
Prices do not include sales tax. No sales tax is collected if you have a referral from a Doctor.
Don't forget to mention you would like to use the Hydro-Massage Table when scheduling your next session!
Bonus: The first time you use, it's complimentary!