Need relief from your pain?
We invite you to come and experience Yo's Clinic — we are confident that you'll be glad you did. We have helped thousands of clients in our years of practice since 1990. We want to help you as well!
People come to us with:
Muscle injuries from auto accidents — and then regain mobility, healing faster.
Severe headaches, pressure and sinus problems — and then feel a clearing relief.
Hip and Sciatic pain — and begin to walk and move without shooting pain.
Tight pain and muscular spasm — and soon feel relaxed and unrestricted.
Foot pain — and before you know it, you are walking with ease!
The services we offer are techniques honed from world-renowned masters and our many years of practice. The benefits for our clients are proven results and an exceptional massage experience, with our clients singing our praises.
We tailor our services to your individual and changing needs, lifting your spirits, and giving you back your quality of life so that you feel comfortable and happy again.
We can help your body to resolve digestive complaints, relieve stress and tension, and erase patterns of pain.
Types of clients that have great success with our services:
Otherwise healthy people who are suddenly faced with a health crisis.
People who desire alternative pain relief options and wish to avoid risky surgery.
Families who wish to boost immune power naturally and restore their health and vitality.
People seeking experienced massage professionals who have knowledge to educate them towards long term health.
Ones motivated to break cycles of pain and live life feeling well.
"Jeremy and Angela are two of the most knowledgeable and caring people in their field. They have such a diverse knowledge in many body working techniques, which gives me the confidence that patients referred to Yo's Clinic will get the best service. What sets them a part from other massage therapists is the personal attention and 20 years of experience they provide." ~Dr. Brent Venables D.C
A bit about us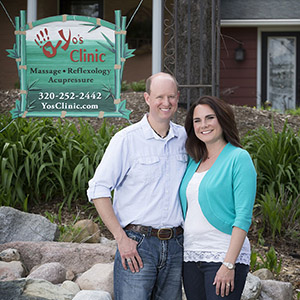 Hello…we're Jeremy and Angela Olson. We have 30 years combined experience giving exceptional therapeutic services to people in the St. Cloud area.
We love being a married team of professionals, entrusted to help people to feel their best.
Our passion is to make your massage and bodywork experience one you will recall as amazing, and well worth your investment. We provide you with a seamless transition between our many therapies, guiding you to feel your best.
We are the people you wish you found five, ten, even fifteen years ago. We really listen to your needs and give you the quality care you deserve.
I've experienced massage all over the world and the best I've found is right here in Sartell with Jeremy and Angela of Yo's Clinic! ~Lois Buelow., St. Cloud, MN

"I love the personal attention Jeremy and Angela show! It's so warm and inviting here that you feel relaxed and refreshed as soon as you walk through the door!" ~Greta Weisman, St. Cloud, MN
Don't just hope you will feel better soon, let Yo's Clinic make it happen.
We want to help you feel your best!
Call us for an appointment — you'll be glad you did!
(320) 252-2442